Semi-Annual Book Sale will be October 17 – 22, 2023
Veterans Memorial Building Visalia
HARDBACK BOOKS $3                        
TRADE PAPERBACK BOOKS $2   
MASS MARKET $1                        
CHILDREN'S BOOKS $.50 – $2
Audiobooks $2
DVD/CD/Games $1
PROCEEDS GO TO LOCAL AAUW SCHOLARSHIPS
AND BRANCH ACTIVITIES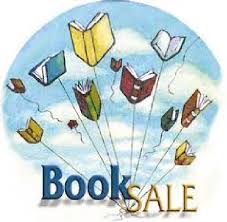 Please Note:  All books sold at the sale are donated by generous community members. If you wish to donate gently used books for the next sale, please take them to the Life Style Center on Cypress Avenue. Our AAUW Book Bin is located just inside the entrance.
Visalia-Sequoia AAUW gives thanks for another successful fundraiser!
Visalians worked as a team once again to make a success of the semi-annual AAUW Book Sale which is held at the Sequoia Mall each April and October.  Thousands of books change hands during this event.
AAUW thanks some of those who join in our effort:
Jamie Wilson, Sequoia Orange, Exeter, for storing books
Sequoia Mall, which lends space for the sale
The Lifestyle Center which harbors a book collection box
Jacob Avila and Redwood High School's Future Business Leaders of America who unload the books
Mark Thompson and crew who help with unsold books
David and Carol Bixler and Mark Olson who provide book transportation   
COS Athletic Teams who load books onto the trucks
Four Seasons Handy Market which provides boxes
Hobby Lobby which supplies carts
Local individuals who had signs on their property
And the many who donated and bought books .
The net amount from each sale will be used for scholarships awarded to students transferring from College of the Sequoias to a four-year college; to 8th grade students attending Tech Trek at Fresno State; and to 4th through 8th graders attending Expanding Horizons at COS.
These scholarships for local students were made possible through hours of dedicated work by many. Used books have been turned into a benefit for our community. Such a great effort and outcome can be commended.
— Jean Moritz, AAUW, Visalia-Sequoia Branch