AAUW has been empowering women as individuals and as a community since 1881. For more than 130 years, we have worked together as a national grassroots organization to improve the lives of millions of women and their families.
 AAUW Sequoia (Visalia, CA) offers:
Stimulating monthly programs
Small groups focused on common interests
Highly successful semi-annual book sale
College scholarships to College of Sequoias students who are going on to four-year schools
Grants that send 7th grade girls to Tech Trek, a science and math camp at CSU Fresno
Sponsorship to Expanding Horizons, a day for 4th – 10th grade girls to spend at College of Sequoias
The camaraderie of educated women with diverse backgrounds and experiences
Membership in state and national AAUW organizations
Together we work to advance equity for women and girls through advocacy, education, philanthropy, and research.  Along the way we make new friends and pursue common interests.
 2019 AAUW Scholarship Award Winners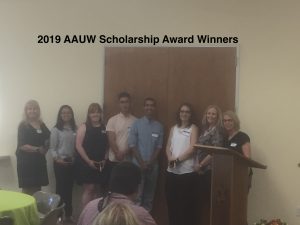 Can't wait to see where these amazing people  will go in the future.